Restaurant sound design is about more than lowering volume – it's about creating balance so that customers can enjoy their conversations.
By Jeanine Botta
We've updated our comment card. The previous version featured two cards – one for compliments and one for criticism. We now only offer the critical card, we've dialed back the sarcasm of the original card, and we've added information for owners and managers who want to reduce sound levels in their establishments.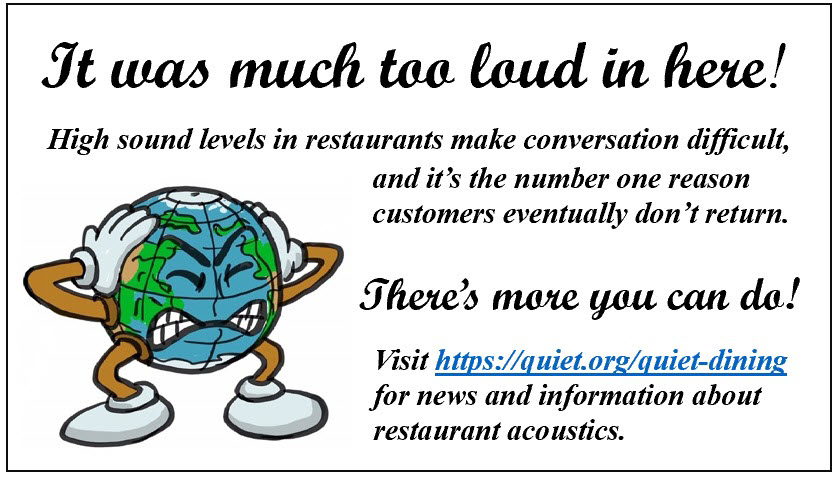 If you are a restaurant owner or manager who's received a comment card or online review criticizing your venue's sound levels, we appreciate your taking the time to visit. If you don't find the right information here, write to us – we'll be happy to try to help further.
If you haven't done so already, the best way to start is to talk with people in your professional network and see if they've had any sound work done. At the same time, grow your network – visit local venues, including those with a lot of quiet reviews on the SoundPrint app – and talk with owners and managers. Visit the National Council of Acoustical Consultants website to search by region. Visit Acoustic Bulletin and Acoustical Society of America groups on LinkedIn, read posts, and reach out. And be sure to read some of the articles listed below.
If you're here because it's challenging to find a quiet eatery, we recommend using information gathered by users of the SoundPrint app to find restaurants in your area listed on the app's website. Even if your city isn't listed on the Quiet Lists page, you'll find listings in many cities on the locations page. Use that as a starting point. Read reviews, take notes, and call early in the day during off-peak hours to ask if there are quiet sections. When you're out in the late afternoon or early evening and notice a restaurant that appeals to you, go inside and check out the sound level.
If you have a smartphone, download the SoundPrint app, read up on it, and use it every chance you get. The app uses your phone to measure decibel levels in a venue for at least fifteen seconds. After you stop measuring, the app will help you locate your venue, and you can add some free text before submitting your information to the database. Your data is anonymous, and you will use SoundPrint to find quieter dining spots, and to help others with the same goal.
If you don't have a smartphone, ask friends and family members to download the SoundPrint app and take readings when you meet up in a restaurant. Using the app is fun, fast, easy, and helpful. For those who become fans of the app, join the mailing list and participate in events and challenges. One event that is useful in building the database is the mapathon. SoundPrint partners with local organizations for specific city-based mapathons to map a city's dining venues over a period of time during prime time days and hours. If you are interested in organizing a mapathon in your city, it is recommended that you contact SoundPrint and coordinate the logistics together.
I participated in the Brooklyn Mapathon in May 2019, following a route of local bars and restaurants in Downtown Brooklyn. Some people worked in pairs, and others worked solo, as I did. I was greatly surprised at how easy it was to walk into a busy establishment and ask to take a sound level reading. Wearing SoundPrint's tee shirt with its large fingerprint served to break the ice, and I quickly explained that there would be no recording. No one refused, everyone was friendly, and I discovered some restaurants that I planned to return to.
Vancouver columnist Douglas Todd has been writing about restaurant noise, and in December 2021 covered a story that underscored the fact that noise can cause irreversible hearing loss. Todd reported that WorkSafeBC, a British Columbia occupational health agency, received 3,343 disability claims for noise-induced hearing loss during a five-year period, and some of the claims were submitted by service sector workers. WorkSafeBC has attempted to educate service sector employees about hearing protection and reporting noisy bars and restaurants. Employees and customers can make anonymous complaints about loud workplaces by calling 1-888-621-7233.
***
Image: Wade Austin Ellis, Unsplash
Resources